No Littering Artwork for Wasgomuwa National Park
In December 2020, Elemotion Foundation donated artwork to Sri Lanka's Department of Wildlife Conservation's Wasgomuwa National Park for visitor information billboards on the subject of 'no littering'.
Elemotion Foundation arranged for our good friend, artist and cartoonist Dharshana Karunathilake, to design the billboards for the park. Two billboards were printed with the message "Do not litter. Your trash is not for wild animals" in English, Tamil, and Sinhalese. The billboards are located at the park entrance and the ranger beat office which is also a rest place for visitors.
Litter in national parks can cause many problems. Of course, we should all want to keep our national parks clear of trash. Trash can pollute the soil and waterways of our protected areas. It can also be toxic to wildlife. Non biodegradable plastics can cause serious health problems to wildlife. Birds and elephants have been found dead after ingesting plastics.
Elemotion Foundation would like to thank artist and cartoonist Dharshana Karunathilake for his art, Wasgomuwa park warden Kelum Pathirana for his initiative to educate visitors about keeping the park clean, and the DWC staff for getting the billboards printed and installed.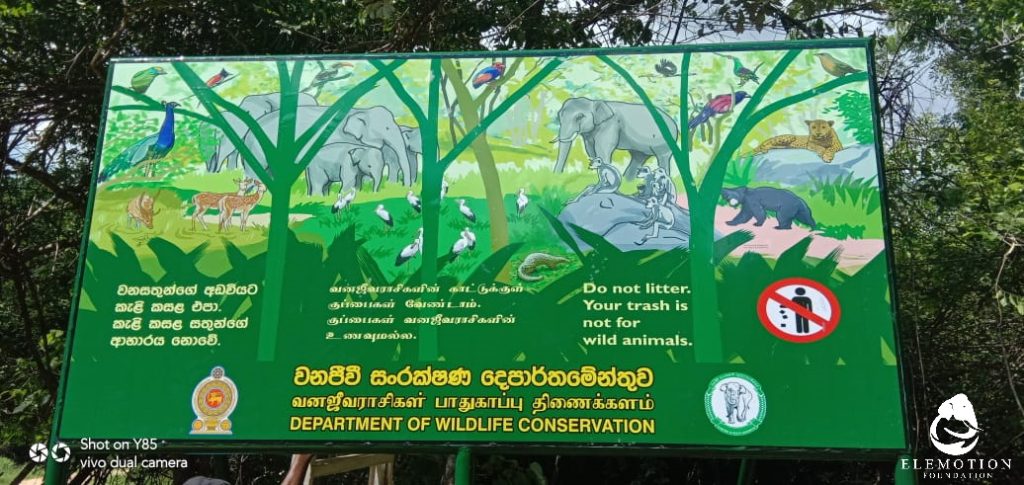 Water pump donation
During the dry season of September 2018, Elemotion Foundation donated a water pump to the Lunugamvehera National Park. In this season, water becomes scarce and animals struggle to stay hydrated. Although the park has manmade watering holes for animals, they can dry out or worse, become breading grounds for parasites. The water pump allows the rangers to distribute water throughout the park and can be moved between locations in need. We are happy to help the park staff keep water available for the wildlife.
Tackling Trash At Somawathie Temple
In June and July 2017, Elemotion Foundation teamed up with the Sri Lankan Department of Wildlife Conservation, corporate sponsor Maskreeda, local authorities, and the Somawathie Temple to tackle an important trash problem during two religious festivals. The Somawathie Temple is located on 15 acres of Protected Area in the province of Polonnaruwa. Thousands of people travel through the Protected Area to worship at the temple, leaving their trash behind. This trash destroys the nature, sickens and kills wildlife, including wild elephants.
Elemotion Foundation and our partners worked to educate the public about the dangers of littering as well as provide an organized manner to help people properly dispose of their trash. Informative banners and posters were displayed, over 4000 pamphlets handed out, colored coded trash bins were made available, and volunteer guides helped worshippers dispose of their trash.
In the end, our efforts were not enough to completely stop the littering; however, the problem was significantly better than previous years. And most importantly, the main local players are motivated and have begun taking this issue seriously. We will continue to follow the progress with the goal of helping all parties to form and enact a plan to keep the National Park clean.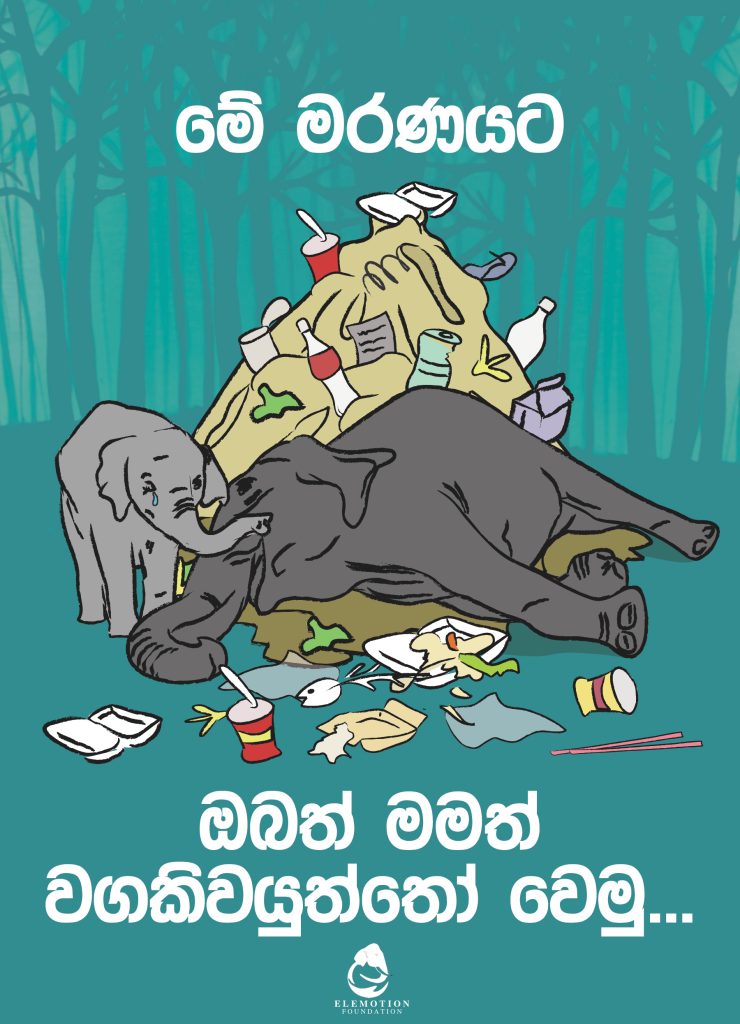 Kaudulla Park Visitor Rules
When taking a jeep safari into a national park, sometimes visitors are not properly informed of the rules. In May 2017, Elemotion Foundation teamed up with the staff at Kaudulla National Park to create multi-lingual laminate cards with park regulations for visitors. These cards are reusable and therefore, environmentally friendly.
Rules about speed, disturbing wildlife, park operating hours, keeping the park clean, and removing specimens from the park are examples of simple rules that will go a long way in helping Kaudulla National Park's wildlife. These guidelines also help visitors enjoy, respect, and protect wildlife. 
Equipment and Keeper Appreciation for Elephant Transit Home Staff- on going
Elemotion Foundation supports the keepers and staff of the Elephant Transit Home. In April 2017, we outfitted the staff with our bright blue polos. In Jan 2016, we donated half of the funds for 35 new rain boots to the Transit Home staff. In June 2014, Elemotion Foundation donated 36 pairs of weatherproof, sturdy boots. The boots went to 2 veterinarians, 1 ranger, 2 assistant rangers, 5 wildlife guards, and 26 full and part-time keepers.
We participate in the Transit Home's Appreciation Program by gifting awards to outstanding keepers. We also conducted lectures on conservation topics specifically chosen for the keepers.
The Transit Home, located at Udawalawe National Park in southern Sri Lanka, is the only orphanage in the world to successfully rescue, rehabilitate, and release orphaned baby Asian elephants back to the wild.
Elemotion has spent many hours observing and interacting with the staff. Their work is vital to the success of the orphans' rehabilitation. The keepers, in particular, show enormous dedication and love for the baby elephants in their care. They spend their entire day outdoors, feeding and guarding the babies, preparing milk formula, cleaning and maintaining the grounds. Feeling appreciated for their hard work gives the staff a sense of pride. Proper footwear makes their work easier, safer, and they look good too!
These are just a few of Elemotion Foundation's many projects to support the Transit Home's orphaned baby elephants and incredible staff.
See more about the orphans, the staff, and our projects at the Transit Home here.
Jeep driver and guide training sessions
Throughout 2015 and 2017, Elemotion Foundation, in coordination with the Udawalawe and Kaudulla National Parks and Sri Lankan Department of Wildlife Conservation, has conducted and/or sponsored training sessions for jeep drivers, guides, and rangers working inside the national park.
The jeep drivers, guides, and rangers are eager to learn more about the park's biodiversity, conservation challenges, and responsible driving practices inside the park. Topics have included wild elephants, Laws Protecting Wildlife and Rules/Regulations inside National Parks, Reptiles and Vegetation of Sri Lanka with lectures and hands-on practice sessions.
Elemotion Foundation believes education is the key to a better understanding, appreciation, and protection of the park's wildlife, including wild elephants. 
School-Park Clean-up and Awareness Program
Trash in and around a nature reserve damages the ecosystem, the same ecosystem both wildlife and locals depend on. In 2015-2016, Elemotion Foundation sponsored clean-up and awareness programs with the local schools near Udawalawe National Park. We united local school children and the park staff to clean up the borders of the park. Working side by side, the trash gets picked up, and the children learn about the importance of keeping their environment clean!
The children enjoy the hard work, have lunch, and each child receives a lovely certificate on behalf of Elemotion Foundation and the park for their participation.
Udawalawe National Park entrance brochure for tourists
In 2015, Elemotion Foundation collaborated with the Sri Lankan Department of Wildlife Conservation to design an eye-catching, educational new brochure for tourists visiting Udawalawe National Park. Due to language barriers and sometimes untrained jeep drivers and guides, Elemotion Foundation and the Udawalawe Park staff wanted to provide the park's visitors with the information they need to enjoy and respect the park's wildlife.
The brochure is given to each jeep entering the national park. It provides information about the park's history, biodiversity, elephant populations, and how to have a responsible jeep safari. The brochure is currently being tested and improved based on guide and tourist feedback.
Elemotion Foundation thanks the park's warden, Mr. Pathirana, for his continued support and wildlife photographers, Dr. Deepani Jayantha, Vimukthi Weerathunga, and Saandip Nandagudi for donating their photos.  
Elephant Transit Home surveillance system
Elemotion Foundation supports orphan elephant rehabilitation.
In May 2014, installation of an outdoor video surveillance system, funded by Elemotion Foundation, was completed for the Elephant Transit Home. The Transit Home, located at Udawalawe National Park in southern Sri Lanka, is the only orphanage in the world to rescue, rehabilitate, and release orphaned baby Asian elephants back to the wild.
The video surveillance system helps the orphanage run more efficiently. It allows veterinary staff to keep a close eye on vulnerable new arrivals, survey sick and injured babies, and implement new management strategies.
The surveillance system includes four night-vision cameras, pointed at the milk feeding station, hospital, sick/injured/new arrival pen, and gate to the free range area. Up to four more cameras can be added in the future. Once the Transit Home has DSL internet installed, the system will also allow the veterinary staff to access the video feed from outside the orphanage by remote log-in.
This is just one of Elemotion Foundation's many projects to support the Transit Home's orphaned baby elephants and incredible staff.
See more about the orphans, the staff, and our projects at the Transit Home here.    
Kivul Ara Primary School library
Elemotion Foundation is committed to early childhood education for rural villages struggling with Human-elephant conflict.
We provided infrastructure support and donated supplies to the Kivul Ara Primary school, located in southern Sri Lanka. Kivul Ara serves four farming villages and has 61 students, grades 1st– 5th.
In 2013, we funded the construction of a library for the modest two-room schoolhouse. Construction lasted about 6months and was completed in spring 2014. Finishing touches, furnishings, and stocking the library was complete in early 2016. During this time, Elemotion Foundation conducted several conservation programs with the children.
The library is currently in use and became the first structure to be built since the school opened nearly 12 years ago. The library building adds a needed extra room to the school and helps instill a love of reading in the children. It gives them quiet place to read, concentrate, and study. It also serves as a safe place to store English and Sinhalese books.
DWC support for confiscation of illegally caught baby elephants
From 2015 to 2016, Elemotion Foundation supports the Sri Lankan Department of Wildlife Conservation's efforts to confiscate illegally caught wild baby and juvenile elephants from their criminal owners. In recent years, the poaching of live wild baby elephants for private collection has been rampant. A profitable black market ring of crooked buyers, sellers, smugglers, and enablers has been able to illegally capture and hold, probably over 100, baby elephants from national parks in the country. These unfortunate babies, stolen from their wild mothers, are held prisoner in temples and private gardens of the rich and powerful as symbols of status and prestige. None of the owners has the knowledge to properly care for the babies; therefore, they are left to struggle in horrific conditions.
Under a new government, the DWC has been given more authority to begin confiscations. Elemotion Foundation has supported these efforts by donating a collapsable steel pen for the temporary holding of the baby elephants at the DWC Colombo headquarters, a LCD monitor for surveillance of the babies at their rehabilitation facility, and we have provided medical support to new keepers working to rehabilitate the confiscated elephants. We will continue to speak out about this illegal activity. We are proud of the brave men of the DWC's flying squad who conduct the confiscations and all those working hard make these confiscations possible. (photo shows a newly arrived confiscated elephant in our steel pen)
Now, we just hope these babies will have their day in court and justice will be brought to the criminals who imprisoned them.
Chain cut wound prevention
Elemotion Foundation helps to eradicate chain cut wounds by providing free firehose.
While we wish all captive elephants could live chain free, this is not the reality. Improper use of chains leads to painful wounds causing infections and possibly even death. However, by providing free firehose, we can help eradicate these painful chain wounds. The chains are threaded through the hose creating a barrier between the metal chain and the elephant's sensitive skin.
In spring 2013, we began talks with a large captive elephant facility. The facility had many, long term, severe cases of chain cut wounds, especially on younger animals. For privacy reasons, we cannot reveal the identity of the facility.
Over the next four months, Elemotion sent hose samples while veterinary staff conducted trials with each type of hose. Samples varied by age (new or used), style of casing (single or double jacket), and diameter. By summer, the winning combination was found.
After 6 months and 50ft of hose, chain cut wounds were healed and no animal was suffering from this problem. The facility pledged to make hosing a regular part of the management policy.
Elemotion Foundation was happy the facility staff was open to this technique, stayed committed, and trained the mahouts to better care for their elephants. Although we cannot remove the chains completely, we will continue to follow this project through and check in on the elephants.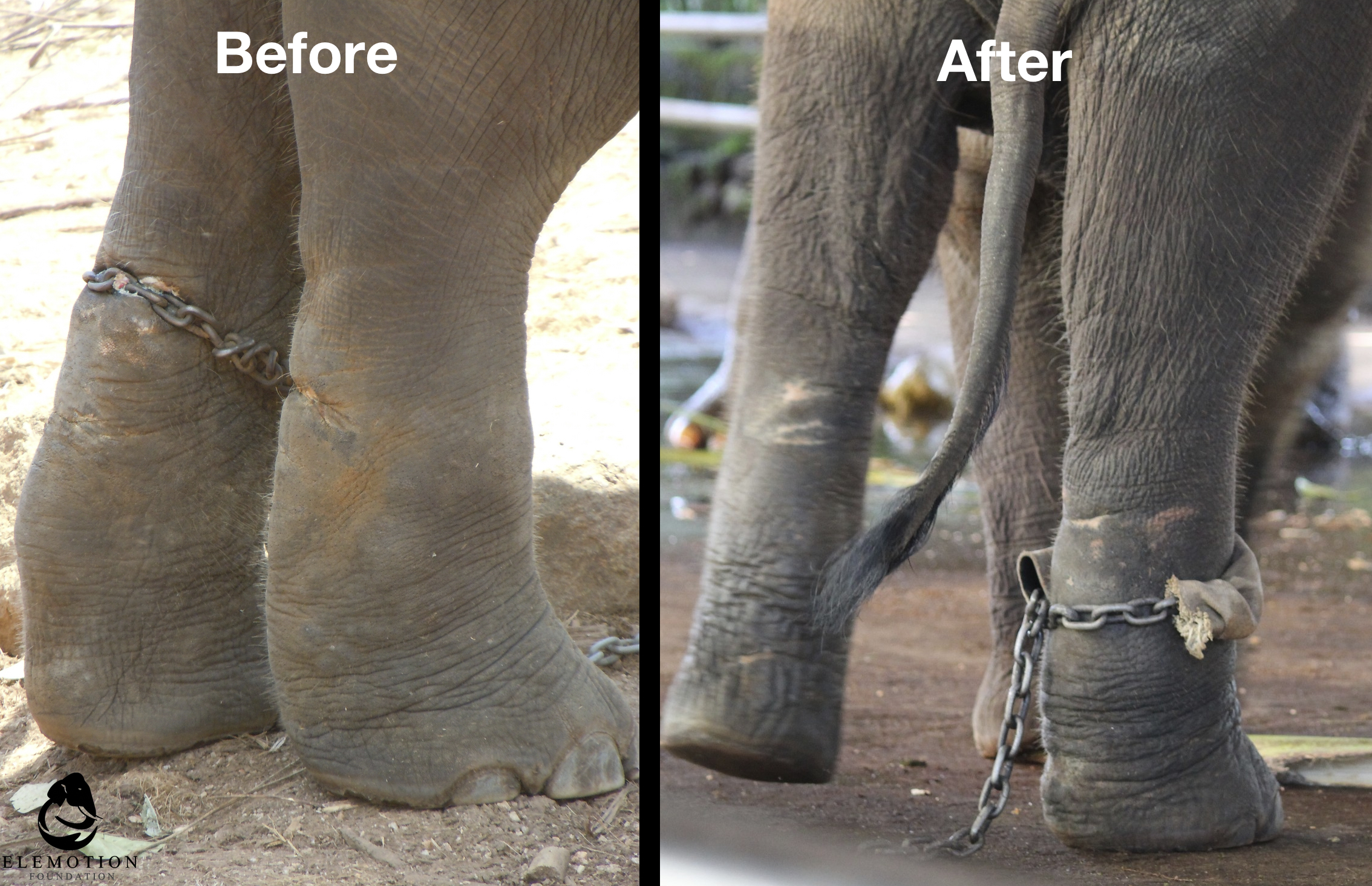 BLES Medical Protocol
Elemotion Foundation believes all captive elephant facilities should operate with a health program that includes yearly check-ups, staff health screening, and disease prevention. We support Boon Lott's Elephant Sanctuary's (BLES) efforts to build an elephant clinic near Sukhothai, Thailand.
After months of research and with the guidance of top veterinarians specialized in elephant medicine, Elemotion Foundation completed a medical protocol adapted to the specific needs of BLES. It includes: an elephant profile form, mahout/owner questionnaire, diagnoses records, vaccination records, lab result records, detailed physical examination form, AZA Quarantine guidelines, and preventative care measures.
The long version of the protocol is available here. It may be copied and adapted by a qualified veterinarian to fit the needs of other captive elephant establishments. Elemotion Foundation believes in openly sharing our work in the hopes that other facilities will adopt a medical protocol of their own. Today, it has been shared with Sri Lanka, Thailand, and Nepal. PDF's are best when viewed with Adobe Reader (available for PC and Mac).
The foundation would like to thank Dr. Susan Mikota, Dr. Sumolya Kanchanapangka, and veterinary technician Monica Stewart.  Their knowledge and guidance was essential to the successful completion of this project.
AsESG guidelines, AZA Standards for Elephant Management and Care, 'Elephants and Their Diseases' by Griffith H. Evans, and 'Biology, Medicine, and Surgery of Elephants' by Murray E. Folwer and Susan K. Mikota were used as references.
Thong Tae
In October 2010, while visiting a forest reintroduction project for captive elephants near Mae Chaem, Thailand, Elemotion recognized a little 2-year old elephant named Thong Tae.
In the past, Thong Tae had been a fat, happy elephant. Sadly, when we found him, he was not in good condition. He was tethered to a short chain in a sloped village backyard, pale, aggressive, and rocking violently. He had been separated from his mother and put through traditional violent beatings in order to train him for work.
We could not turn our back on this little elephant. That same day, it was agreed that Elemotion would support Thong Tae so he could stop training and immediately rejoin the forest reintroduction program.
At first, Thong Tae was scared to be in the forest alone. The staff tried twice to reunite Thong Tae with his mother, but she rejected him. But with the care of his mahout, Mr. Pakeduh, Thong Tae eventually improved and gained weight. Pumpkin and other treats were brought to him to help supplement his diet. Elemotion began to think about how to arrange for Thong Tae's long-term care.
Suddenly, on Tuesday March 29th, 2011, Thong Tae seemed sluggish and uninterested in food. This depressed state continued for the next two days until he passed away Thursday, sometime in the night of March 31st, just one month and 10 days before his third birthday. He had participated in the forest reintroduction program for only 6 months.
Elephant endotheliotropic herpesviruses (EEHV) is a common virus that affects both wild and captive African and Asian elephants. While African elephants are not as affected by the virus, it is highly fatal when contracted by Asian elephants between the ages of 0-5. It is suspected to be responsible for almost 50% of the deaths of young zoo elephants.
Elemotion researched EEHV and contacted Dr. Erin Latimer of the National Herpesvirus Laboratory at the Smithsonian Zoo to learn about the latest in EEHV testing.
Only after Thong Tae's passing did we learn of other people who loved him and were deeply moved by his death. Thong Tae's death inspired Elemotion to help captive elephant facilities create a routine health program including annual check-ups, screenings, and preventative care measures.