Did you know Asian elephants are endangered?
According to the  IUCN Red List, the official list of species facing extinction, the Asian elephant is classified as 'Endangered'. Over the last three generations, the population has declined by more than 70%.  In the next three generations, it is projected to decline by at least another 50%.
Total Wild Asian Elephants
In the 1900's, there may have been as many as one million wild Asian elephants.  By comparison, today's numbers are grim. Loss of habitat, conflicts with humans (HEC), and poaching have reduced wild Asian elephant numbers to around 30,000 individuals.
Captive elephants are also suffering. Today, there are an estimated 15,000 elephants in captivity. Many of these captive elephants are working and struggling to survive in Asia's profit driven, mostly unregulated, tourism industry.
Elemotion Foundation is a US registered, non profit organization.  Working in both welfare and conservation, we aim to improve the lives of Asian elephants and the people connected to them.
Elemotion Foundation was established in 2009 to protect wild Asian elephants and improve captive elephant welfare. Today, our work includes supporting wild orphan elephant rehabilitation, preserving wild elephant habitat, building infrastructure for Human-elephant conflict (HEC) affected villages, improving captive elephant management techniques, and raising awareness about the plight of Asian elephants and responsible tourism.
We first began in the summer of 2009 with an educational brochure for tourists visiting Asia. It explained the actual conditions under which elephants work in the tourism industry. It also included advice on how the public can enjoy elephants without a negative impact. This information was translated into several languages and passed on to thousands of people. See our brochures and other audiovisual materialshere.
In September 2010, Elemotion Foundation received its official non-profit status in the United States, 501(c)3 registry number 27-3472337.
Since then, we've traveled throughout Asia, including Thailand, Vietnam, Cambodia, China, Malaysia, Myanmar, Indonesia, Nepal, India, Laos, and Sri Lanka to learn about the different problems facing the elephants of each country and region. Always with an open mind, our research leads us to seek out information from local elephant resource people, compassionately listen to all sides of the story, and take into account cultural traditions and local politics.
Elemotion Foundation is one of the few organizations working in both welfare (captive elephants) and conservation (wild elephants). For us, the two are interconnected due to issues such as; live poaching of wild elephants for the tourism industry, the need for captive facilities to replicate wild living conditions in order to improve captive elephant welfare standards, and the rehabilitation of temporarily held wild orphans to be released back in the wild.
Elemotion Foundation is a modest, no frills, efficiently run organization supported by hardworking family members, volunteers, and elephant resource people. Our three offices are located in Lausanne, Switzerland; Richmond, Va USA, and Colombo, Sri Lanka. The foundation depends on donations to fund our work. Running costs are kept low by using home offices, volunteers, and meticulously managing every project. This way, we can assure our donors their donations are used wisely and effectively.
Contact Us:  Use our contact form, email info@elemotion.org,  or write to Elemotion Foundation, 5302 Terrace Arbor Circle, Midlothian Va 23112 USA.
Elemotion Foundation's financial statements are available upon written request from the Office of Consumer Affairs.
Department of Agriculture and Consumer Services
Atten: Office of Consumer Affairs
102 Governor St. Richmond, Va 23219
USA
Elemotion Foundation is a 501(c)(3) non-profit organization working to  improve the lives of endangered Asian elephants and the people connected to them. Our mission has three elements: 
Education.  Educate the public about the plight of the Asian elephant. The foundation's education initiative includes information about wild  and captive elephants, responsible tourism, range countries, and threats to the elephants' survival.  An informed public has the power to improve elephants' lives by choosing to participate in elephant friendly activities, donating to established organizations, and spreading the message.
Educate and help local people living and working with wild and captive elephants by showing them better ways to co-exist, manage, protect, and care for elephants.


International network building

.  Support, coordinate, and facilitate the passage of information between like-minded organizations, programs, researchers, and individuals who are working towards the betterment of wild and captive Asian elephants.

 

Local programs. Create and support programs to improve the lives of elephants and the people connected to them. The foundation is dedicated to helping elephants by creating initiatives which have an impact on large numbers of elephants as well as on individual cases.
Forest, Friends, and Freedom are Elemotion Foundation's three basic requirements for happy and healthy captive elephants. 
FOREST. Elephants tone muscles, stretch joints, and keep their feet and nails healthy by walking over varied terrain and natural substrate. Free foraging allows elephants to eat a varied diet. They will seek out medicinal plants, salts, and minerals when needed. Elephants will go to water to bathe, drink, and relax. During the hot parts of the day, elephants will find shade and limit their activities to remain cool. Dusting their bodies and covering themselves with mud keeps their skin healthy, protected from the sun and insects.
FRIENDS. Elephants are highly social creatures with intricate family hierarchies and life-long bonds. Friends and family are a crucial part of happy elephant society. Wild females stay together in their family group for life. Even males need company in the form of bachelor herds, sparing partners, and females for mating.
FREEDOM. Expression of free will is imperative for a happy and healthy elephant. This point is often overlooked at tourist and zoo facilities because an elephant looks physically healthy. Their mental and emotional well-being must also be considered. Elephants are extremely intelligent, emotionally complex, and one of the few animals which is self aware. Captive elephant facilities that provide a good level of freedom often have elephants that express more natural behaviors.
Elephants in captivity endure a very long list of disorders, diseases, and ailments that wild elephants do not regularly face. Chain cut wounds, foot and nail disorders, obesity, skin ailments, musculoskeletal disorders, Tuberculosis, increasing instances of Elephant Herpesvirus, rejection of calves by captive mothers, physical abuse, and psychological issues such as stereotypy are a few examples. (Stereotypy is a constant rocking or bobbing behavior. Observed only in captive elephants, it is a coping mechanism due to trauma, anticipation, or anxiety).
Unfortunately, the standard of care for elephants is very low in many captive facilities. Tourism camps, traveling circuses, and low rate zoos do not often provide the basic three F's. Even top zoos and more proactive elephant facilities must make very expensive and complex efforts to try to to meet the needs of elephants in captivity. Examples include creating costly enclosures, swimming pools, enrichment materials, acquiring new or transferred elephants for companionship, and practicing advanced veterinary medicine such as artificial insemination. While some older elephants can be found in zoos, the average life expectancy is low, creating a strong argument that few elephants are thriving in captivity.
As long as elephants remain in captivity, Elemotion Foundation prefers captive elephant facilities that provide their elephants with forest, friends, and freedom; do not work their elephants; and strive to give their elephants an environment that closely replicates life in the wild.
Founder: Laurene K. Knowles
Elemotion Foundation's founder, Laurene K. Knowles, was born in the US and enjoyed a successful career in Europe as a dancer, model, and classical ballet teacher.  She has two Bachelor of Arts degrees in French and History from Virginia Commonwealth University and speaks fluent English, French, Italian, and intermediate Japanese.
Laurene has had a love for animals that reaches back to her early childhood. Today, this love has transformed into a passion for animal welfare and wildlife conservation. She has an interest in rehabilitating and releasing/rehoming animals in need. In 2009, she decided to create Elemotion Foundation to improve the lives of Asian elephants and the people connected to them.
Laurene's research has led her to Cambodia, Vietnam, Malaysia, China, Thailand, Myanmar, and Sri Lanka where she studies the unique elephant situation in each country. By having a broad international base, she is able to find cross-country solutions and unite people working on solving similar problems in different countries. Laurene looks for evidence based solutions and prefers a scientific approach to addressing problems. She has a special interest in wild elephant conservation in Sri Lanka where Elemotion's conservation projects are now based.
Today, Laurene lives in Lausanne, Switzerland where she manages Elemotion Foundation's initiatives, fundraising, website, and coordinates with the ground team on field projects. Laurene continues to travel throughout Asia for field research and foundation projects. In July 2016, Laurene completed the Royal Veterinary College's International Training Course on 'Asian Elephant Health, Reproduction, and Breeding Management' at the Chiang Mai University and National Elephant Institute, Thailand. She also has a 17 year old cat named Fonzie and enjoys feral/stray cat rescues.
If you would like to contact Laurene, please send an email to:  laurene@elemotion.org
Elephant Specialist and Country Representative (Sri Lanka): Dr. Deepani Jayantha
Sri Lankan born, Dr. Deepani Jayantha is a graduate of the University of Peradeniya in veterinary management of captive and wild elephants at the Faculty of Veterinary Medicine and Animal Science. In 2013, she completed her dissertation on the Economics of Human-Elephant Conflict in Sri Lanka as part of a Masters Degree in Development Studies at University of Colombo.
In the last 12 years, Dr. Jayantha's extensive research, projects, and publications include post-release monitoring studies of the rehabilitated and released wild juvenile elephants of the Elephant Transit Home, community conservation and education projects to mitigate Human-Elephant conflict near Udawalawe National Park, welfare of Sri Lankan captive elephants, and responsible tourism.
Dr. Jayantha also travels throughout Asian and African range countries addressing international symposia and forums on Sri Lankan elephant conservation and welfare. Dr. Jayantha works hand in hand with governmental agencies and non-governmental organizations to create guidelines and recommendations to improve the conditions of captive and wild Asian elephants. Collaborations include the Sri Lankan Department of Wildlife Conservation, University of Colombo, Born Free Foundation, Dogstar Foundation, IUCN Asian Elephant Specialist Group, and Elemotion Foundation where she is currently 'Elephant Specialist and Country Representative'.
Dr. Jayantha has a passion for all wildlife and has extended her expertise to help leopards as well as feral dog and cat populations. In her spare time, she enjoys photography and reconnecting with nature on hikes in Sri Lanka's wilderness.
Assistant: Shenya de Silva
Shenya de Silva is a graduate of the University of Colombo in Biological Sciences and holds a second degree in Information Technologies. Having worked as a volunteer and office assistant for the Born Free Foundation in Sri Lanka, Shenya has a passion for wildlife and field work. She volunteered for Elemotion Foundation as a field assistant and computer graphics artist. Her volunteer experience with Elemotion Foundation's team led her to travel extensively throughout Sri Lanka, photograph and collect data on orphaned elephants, interview wildlife rangers, design reading materials, and work with local communities. Today, she lives in Berlin, Germany where she continues to contribute with graphics and content for Elemotion Foundation's media and website.
In her spare time, Shenya likes to read, hag out with her cat, and take trips to the wilderness.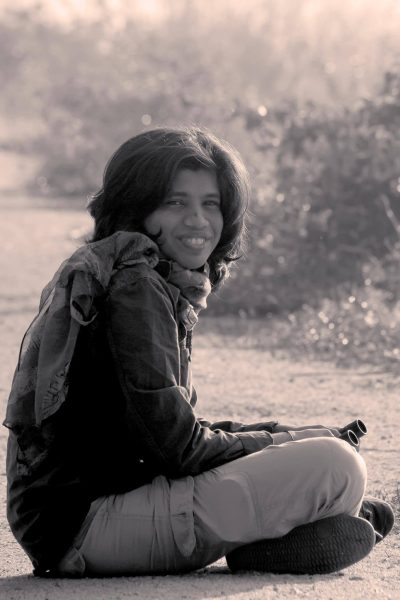 Researcher and Editor: M. Stuart
Born in the United States, M. Stuart is a lifelong animal lover. She rescued her first kitten when she was three years old and has been helping animals ever since.
After a lengthy career in private industry, M. Stuart decided to follow her passion for animals and enrolled in a two year Veterinary Technician program to become a Licensed Veterinary Technician in order to help animals in a more profound way. Since that time, she has participated in many mass sterilization clinics in Asia. In 2011, she completed an in-depth elephant nursing course in Southeast Asia which served as springboard to elephant welfare and advocacy.
M. Stuart's international background and insight in Asian elephant welfare continues to make her a key resource person for Elemotion Foundation's responsible tourism and captive elephant health/welfare initiatives.
Board of Directors
Laurene K. Knowles- President, Founder
Luca Nanni- Vice President
Barton J. Knowles- Secretary, Treasurer
Diane Castleberry- Education Secretary
IT services provided by Bastionpoint Technology.